About Us
Stephanie Scheffler: Full time employee does the feeding, grooming, water refills, mucking and some of the riding.
Steven Scheffler: One of our part time riders and stable hand.
Robert Scheffler: Part time stable hand and saddler.
Shari Scheffler: Part time rider and pony ride giver.
<![if !vml]>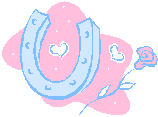 <![endif]>
Starci Scheffler: Feeding and watering assistant.
Cuddles the Cat: Mouser